*Anzeige*
Meine Lieben, ich durfte wieder einmal mit FASHION5, einem meiner liebsten Mode-Onlineshops kooperieren. Mit der aktuellen Kampagne möchten wir diesmal gemeinsam ein ganz besonderes Thema aufgreifen: Be authentic, denn das steht dir am besten!
Was ist damit gemeint? Authentisch zu sein bedeutet so viel wie "man selbst" zu sein. Authentizität beginnt damit immer bei sich selbst: Authentische Menschen wirken echt, ungekünstelt, offen und entspannt. Ein authentischer Mensch strahlt aus, dass er zu sich selbst steht, zu seinen Stärken und Schwächen. Er ist gewissermaßen im Einklang mit sich selbst und das spürt auch die Umwelt. In der Blogger- und Instagramwelt ist das leider nicht immer ganz einfach. Irgendwie sehen doch alle Influencer gleich aus oder? Ich muss zugeben, auch ich lasse mich gerne inspirieren und möchte dadurch vieles – auch extravagantere Trends – ausprobieren. Eines ist jedoch wichtig: Es muss mir wirklich gefallen und ich muss mich damit identifizieren können. Auch was Kooperationen mit verschiedenen Partnern betrifft, sage ich nur Anfragen zu, welche wirklich zu meinem Typ, meinem Blog und zu meinem persönlichen Stil passen.
Gerade im Fashionbereich schmeichelt nun mal nicht jeder Trend jedem Figurtyp. Dadurch dass ich recht klein bin, sehen z.B. Hosen im Boyfriendstyle in Kombi mit Sneakern oft ziemlich bescheuert an mir aus. Da muss der Schnitt wirklich 100% passen und selbst dann, sollte ich besser ein höheres Paar Heels anstelle der Sneaker dazu tragen. Oben herum greife ich jedoch wiederum sehr gerne zu Oversize-Schnitten, da ich sowieso an den Schultern sehr schmal bin. Zur engen Röhre oder einem coolen Minirock passt das dann richtig gut und macht zudem eine gute Figur, somit fühle ich mich dann einfach wohl.
Deshalb habe ich mich für den süßen Perlen-Sweater und den wunderbar bequemen Pullover mit verspielter Rückenschnürung entschieden. Beides habe ich mir tatsächlich in "oversize" ausgesucht, d.h. ich habe die Teile einfach 2 Nummern größer ausgewählt. Die beiden Sweater fallen durch ihre dezenten Applikationen auf und wirken dadurch besonders chic. Und genau das wollte ich, da ich ja schon genügend Basics im Kleiderschrank hängen habe.
Dazu dann noch die kuschlige Kapuzenjacke, auf welche ich gerade jetzt während der ersten kühlen Herbsttage nicht mehr verzichten möchte. Der Mantel in Wolloptik geht einfach immer. Ich liebe es einfach bequem aber stylish. Und beide Kriterien erfüllen meine 3 neuen Lieblingsteile definitiv.
Falls ihr auch ein neues Outfit sucht, schaut doch mal bei FASHION5 vorbei. Dort werden die verschiedenen Figurtypen gleich mit konkreten Tipps zu den passenden Outfits vorgestellt. Mit dem Gutschein-Code "caterina20" bekommt ihr 20% bei einem Mindestbestellwert von 30€. Der Code gilt bis zum 31. Oktober 2017.
Und nicht vergessen: Bleibt euch selbst treu – BE AUTHENTIC!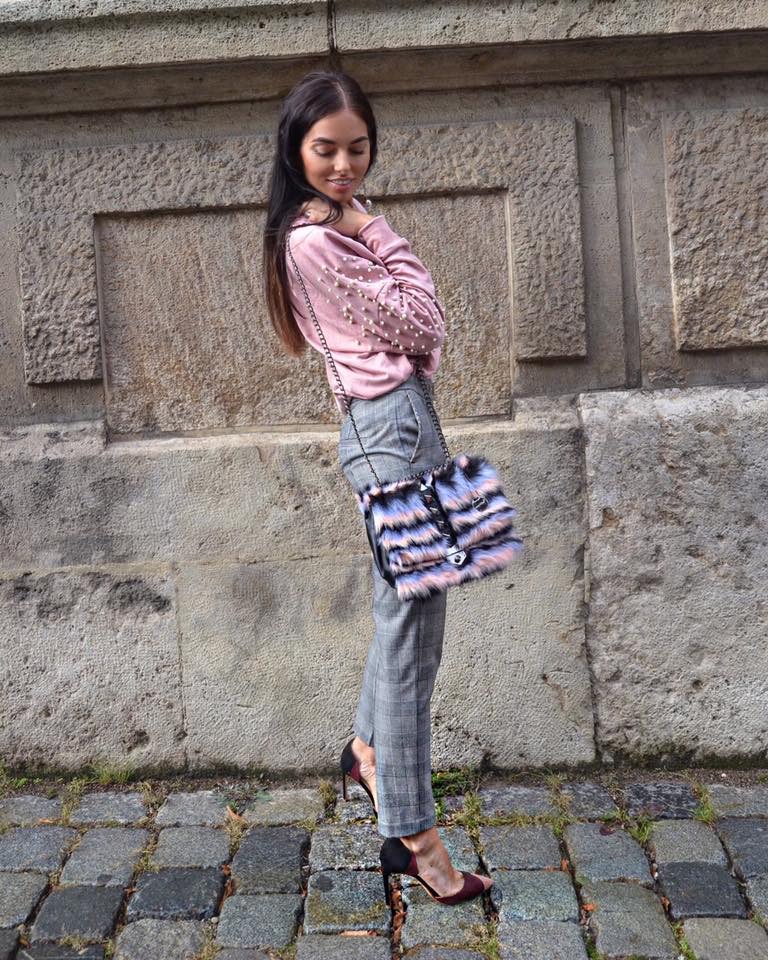 Herzlichen Dank an das liebe Team von FASHION5 für die wie immer tolle Zusammenarbeit!